Clicking on RV ROUTES takes you to our map pages where you will find useful, first-hand information, photos, mileages, prices and more to help you plan ahead.

ON THIS WEBSITE:

RV ROUTES Some of our North and South route maps, with photos, campgrounds & reviews

PLANNING IT Tips, tricks and some places to find your answers

CAMPGROUNDS we've visited by State, City, and Attractions

WORKAMPING What it's about & the FREE
places to find the jobs

FRATERNAL Organizations with camping spaces for its members

OPEN 4 SEASONS Campgrounds open all year in the Northeast

SNOWBIRD EMAILBAG Comments, questions, and answers

NEWEST BLOG But what are we up to now?

DINING REVIEWS Our own opinions of some restaurants by State

_____________________________

Email Niki and Jack
snowbirdrvtrails@gmail.com
We are always open to questions, comments, and suggestions and we do answer our mail.

We're all about RVing, Trip
Planning, Workamping &
Enjoying Retirement

We are RVing Snowbirds - Niki, Jack, K.C. and B.B. We travel North to do a little Workamping in the Summertime and South to someplace warm and sunny for the cold months.

We've retired from a combined 50+ years in the customer service field and for the past 5 years we've joined the other road warriors to rediscover our America one stopover at a time.

We plan our trips North and South with different routes and campgrounds each time and set a leisurely pace for getting from here to there. We look for the best routes and best values for our retirement $$$ in campgrounds, restaurants, and sightseeing,

We spend at least 2 nights in each stopover (20 - 30 campgrounds each year) so we can discover a little of what makes each place special (and they all are).

Wherever we stop we have 2 questions. What is your favorite local mom -&- pop restaurant that has good food? Second question - what is your favorite place to show family and friends when they come to visit? You will be truly surprised when you choose to follow some of their suggestions.

Whenever we stop we take photos, write about our impressions, and post the mileages, costs, facts, and figures and other interesting things we find. We post trip reports on our Snowbird RV Trails Blog as we go and then post a summary and map on our website here after completing a trip.

We Workamp Summers because it's a great way to meet all of the campers and also for the no cost campsite and other amenities. The shorter working hours leave plenty of time for day trips and sightseeing in the area. In the Fall, as the leaves start turning, we head South to warmer "Winter" days and more exploring and the other fun things we like to do.

We are glad you stopped by and invite you to look around our website. If we can help you with a route, restaurant, or stopover, send us a note. If you would like to come on board and travel with us for a few miles, just click on "follow" on our Blog.

Your comments are always welcome and perhaps one day we will meet down the road. Until then safe travels and enjoy your journey,

Jack, Niki & "The Kids"

Welcome Aboard-




Your Hosts - Niki, Jack, K.C. & B.B.
---
Connect with Jack, Niki, and Snowbird RV Trails






for our tested RV routes, restaurant reviews, campground ideas, tips and suggestions
---
Day Trips with Niki, Jack, & Snowbird RV Trails
---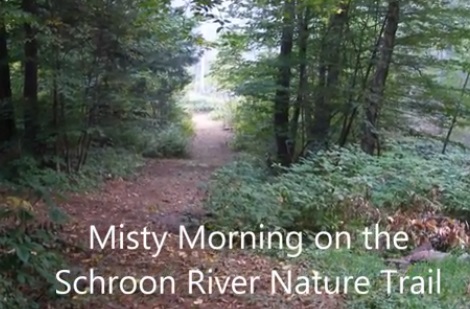 Join Niki and Jack for an early morning walk
along the Schroon River in the Adirondacks
Trail Begins Here

---
From our 2013 Files

Creature Comforts vs that old sewer system!
Are you tired of fighting with the big slinky sewer hose and the challenge of trying to match your system to the difficult dump sites you encounter? Are you hesitant to hook up the electric macerators you see advertised? We definitely were and found an easier and much more painless solution. (We've no connection with this manufacturer. These are just our findings and opinions.)
---
A Visit to the Pottersville Methodist Church Chicken BBQ Supper
Grab your ticket and join us as we discover great food and good fellowship at an old-fashioned Church supper. It's just the way they've done it in Adirondack Mountain small towns for a 100 years.
---
An Independence Day Journey through Vermont
Combining a visit through the picturesque Vermont countryside, old-time small town celebrations, book sales and a ferry trip across Lake Champlain.
---
Good Sam Rally in Syracuse, NY
Four days of fun, food and togetherness with a few thousand close friends.
---
We spend Summers "Workamping" in the Adirondack Mountains of Upstate New York and we love to explore the region. This page is a little about the Adirondacks.
---
Your comments, questions, and suggestions are always appreciated on any of our topics. We are here to help when we can and we just ask that you to do the same for your RVing neighbors. We're all in this together (and loving every minute of it!)
---
__________________________________________

. . . You'll find the Snowbird RV Trails Team
on CB Channel 13. If we cross paths,
give us a shout . . .
__________________________________________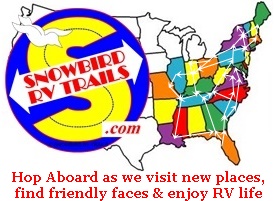 Share us on Facebook

---
We're On the Road again . . .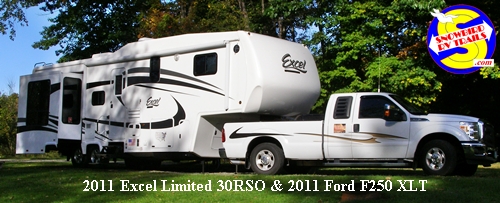 2011 Excel 30RSO, 32', 3 slides, 4-Season 5th Wheel towed by our
2011 Ford F-250 XLT Super Duty, 6.2L V8, 385hp, & 4.3 Locking Axle
Have a question, suggestion, or comment for us?
Email Jack & Niki
snowbirdrvtrails@gmail.com


---
What do we do in our sparetime?
Glad you asked. We publish some other webpages on topics we have really come to love. You're invited to have a look.



Myrtle Beach Snowbirder




R

eviewing the best attractions, restaurants & hotels along the Grand Strand with information about shows, ticket prices, maps, webcams, and photos

.



Tampa Bay Snowbirder
Planning a beach vacation? All the things to see and do in the Tampa Bay Area. Information about attractions, shows, ticket prices, maps, webcams, and photos.

ABC PreSchool Learning Time
Kids can learn to write their ABC's, their numbers and how to tell time along with a special friend.

ABC Toon Center Theme Park for Kids
Our original cartoon, story, and game website for young children and the young at heart.

The Adirondack Northwoods Bookshop
The place to find out-of-print art, outdoor, sport, and Adirondack books.

Entire Contents
(c) Copyright Snowbird RV Trails 2014
All Rights Reserved

TO TOP OF PAGE

"We just can't wait to get on the road again . . ."